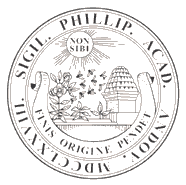 Philips Academy Andover
School Name:
Philips Academy Andover
Location:
Andover, Massachusetts, USA (25 miles north of Boston.)
Founded Year:
1778
Motto:
Non Sibi (Not for Oneself) Finis Origine Pendet. (The End Depends Upon the Beginning)
Type:
Co-ed
Boarding Age:
11-18
Year Group:
Grade 7-12, a post-graduate (PG) year
No. of Students:
1129
No. of Boarders:
840
Average Class:
13 students
Average SAT:
2098 (2008)

Entry Requirement:




For applicants to grades 9, 10, and 11: the SSAT exam is preferred, though you may take the ISEE in place of the SSAT. Applicants to the 11th grade also have the option of taking the PSAT or SAT.
For applicants to grade 12 or postgraduate candidates: applicants must submit the PSAT, SAT or ACT test.

Extracurricular Activities:




Phillips Academy offers a broad curriculum and extracurricular activities that include music ensembles, 30 competitive sports, a campus newspaper, a radio station, and a debate club.
The School
Andover traditionally educated its students for Yale (and, to a lesser extent, Harvard), but students now matriculate to a wide range of colleges and universities.
In recent years, Andover has sent the largest number of its students to Harvard, Yale, Stanford, Penn, Columbia, Princeton, and other top-tier colleges and universities in the United States and abroad.
Among other notable alumni, Andover has educated two American presidents, George H. W. Bush and George W. Bush.
The curriculum of Phillips Academy comprises a required core of studies and elective courses designed to fit the interests of the individual student.
Certain requirements vary in keeping with the length of time a student attends the Academy.
Classroom groups are small enough and students are placed in sections fitted to their skill levels. Accelerated sequences and advanced courses offer particularly able and well-prepared students opportunity to progress at a rate commensurate with their ability and ambition.
Admission
Phillips Academy is one of only a few private high schools in the United States that attained need-blind admissions in 2007 and 2008, and it has continued this policy through the present
In 2009 it received 2,711 applications and accepted 16.7%, with 77% of those going on to matriculate at the Academy. In 2010, Phillips Academy received a record 2,844 completed applications and accepted 405 students, for a 14.2% admission rate.
Boarding Houses
Advisors learn the student's goals, aspirations, and needs, fostering a close relationship and allowing them to mentor each advisee in a one on one basis. The key to a successful education at Andover is a healthy balance of academic, cocurricular, extra-curricular, social, and personal activities, all of which advisors have can help with choosing.
AP Course
A large number of Phillips Academy students take College Board Advanced Placement Tests in May to establish advanced placement in college courses or credit toward the college degree.
Advanced Placement examinations are offered in American History, Art History, Art Studio (2), Biology, Chemistry, Computer Science (A and AB), Economics (2), English Language and Literature, Environmental Science, European History, French Language and Literature, German, Government and Politics (2), Latin Vergil and Literature, Mathematics (AB and BC), Music Theory, Physics (C), Psychology, Spanish Language and Literature, Statistics, World History, Chinese, and Japanese.
2012/13 US High School Boarding Fees# (USD$) Per Year
| | | | | | |
| --- | --- | --- | --- | --- | --- |
| 7th Grade (12/13 Years Old) | 8th Grade (13/14 Years Old) | 9th Grade Freshman Year (14/15 Years Old) | 10th Grade Sophomore Year (15-16 Years Old) | 11th Grade Junior Year (16-17 Years Old) | 12th Grade Senior Year (17-18 Years Old) |
| 47,200 | 47,200 | 47,200 | 47,200 | 47,200 | 47,200 |
Remark: #Inclusive of tuition fees but exclusive of miscellaneous fees, such as uniform, extracurricular activities