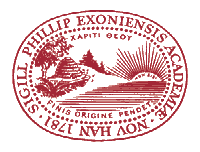 Philips Exeter Academy
School Name:
Philips Exeter Academy
Location:
Exeter, New Hampshire, USA
Founded Year:
1781
Motto:
Hic Quaerite Pueri Puellaeque Virtutem et Scientiam (Here, boys and girls, seek goodness and knowledge)
Type:
Co-ed
Boarding Age:
12-18
Year Group:
Grade 7 - Grade 12
No. of Students:
1071
No. of Boarders:
858
Average Class:
12 students
Average SAT:
697 verbal, 709 math., 693 writing (2012)

Extracurricular Activities:




20 interscholastic sports, 60 interscholastic team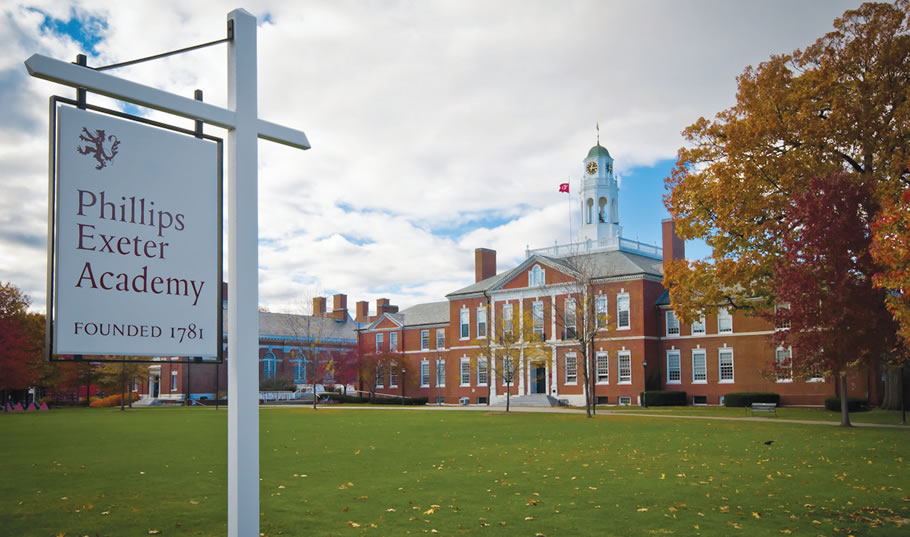 The School
Exeter is noted for its application of Harkness education, a system based on a conference format of teacher and student interaction, similar to the Socratic method of learning through asking questions and creating discussions.
Classes at Exeter are held Monday through Saturday, although Wednesday and Saturday are half days.
Exeter uses an 11-point grading system, in which an A is worth 11 points and an E is worth 0 points. Exeter has a student-to-teacher ratio of about 10:1.
A majority of the faculty have advanced degrees in their elds.
Exeter offers needs-based financial aid.
Exeter has a history of highly competitive athletic teams.
Originally, Exeter was effectively a preparatory school for Harvard, much as its archrival Phillips Academy was seen as a Yale feeder school. Today Exonians matriculate to many top universities across America and abroad. Averaged over many years, more Exeter students go to Harvard than to any other single college or university, but the number matriculating to Harvard in a single year is not always the highest.
Admission
Please contact the Admission Office directly by email, by post or visit the School website for latest information.
Boarding Houses
Most students live in the dormitories. Each residence hall has several faculty members and senior student proctors.
There are check in hours of 8:00pm (for first and second year students), 9:00pm (for third years), and 10:00pm (for seniors) during the weekdays and 11:00pm on Saturday night.
2012/13 US High School Boarding Fees# (USD$) Per Year
| | | | | | |
| --- | --- | --- | --- | --- | --- |
| 7th Grade (12/13 Years Old) | 8th Grade (13/14 Years Old) | 9th Grade Freshman Year (14/15 Years Old) | 10th Grade Sophomore Year (15-16 Years Old) | 11th Grade Junior Year (16-17 Years Old) | 12th Grade Senior Year (17-18 Years Old) |
| 46,030 | 46,030 | 46,030 | 46,030 | 46,030 | 46,030 |
Remark: #Inclusive of tuition fees but exclusive of miscellaneous fees, such as uniform, extracurricular activities