Groton School
| | |
| --- | --- |
| School Name: | Groton School |
| Location: | 282 Farmers Row, P. O. Box 991, Groton, Massachusetts, USA |
| Founded Year: | 1844 |
| Religion: | Episcopal |
| Motto: | Cui servire est regnare ("for whom to serve is to rule" or "to serve God is to experience perfect freedom") |
| Type: | Co-ed |
| Boarding Age: | 12-18 |
| Year Group: | Grade 7 - Grade 12 |
| No. of Students: | 372 |
| No. of Boarders: | 327 |
| Average Class: | 11 students |
| Average SAT: | 702 reading, 688 math., 702 writing (2011) |
Contact Details
Director of Admissions:


Ian Gracey
Address:


282 Farmers Row, P. O. Box 991, Groton, Massachusetts, USA
Telephone:


+1 (978) 448 3363
Email:
igracey@groton.org
Web:
http://www.groton.org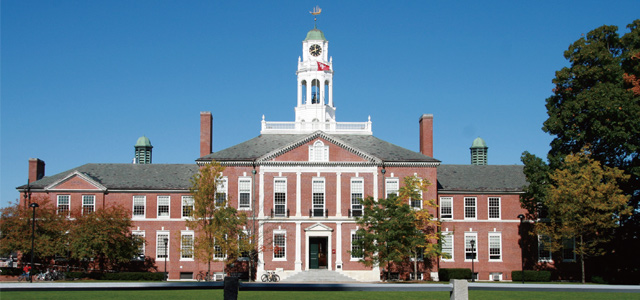 The School
In late 2007, the Wall Street Journal listed Groton School as one of the world's top 50 schools for its success in preparing students to enter top American universities.
Groton is an intimate community as 90% of students are boarders and most teachers live on campus in dorms or faculty housing. Classes are small, ranging from 12 to 14 students. There are regularly scheduled sit-down dinners during fall term and during spring term; at sit-down dinner, faculty and students dress up formally and sit down for a proper 45 minute dinner and are served by students assigned as waiters.
Between 2003 and 2007, Groton graduates attended the following nine colleges most frequently (in order): Harvard University, Georgetown University, Brown University, Trinity College, Princeton University, University of Edinburgh, Yale University, Vanderbilt University, and Tufts University.
Admission
Please contact the Admission Office directly by email, by post or visit the School website for latest information.
Boarding Houses
Dorms are comfortable and cozy. More than 70 dormitory heads and affiliates are there not only to supervise, but to guide and support.
Since the earliest days of the School, Groton has ended its day with handshaking. The Rector and Mrs. Peabody began the tradition as they said good night to each student.
Now, over 100 years later, the day at Groton ends in much the same way, with each student shaking the hand of his or her dorm head. The tradition builds a sense of community, just as it did more than a century ago. There are now 17 dormitories; handshaking happens in every one, every night.
Second and third form students live with members of their own form; all dorms are separated by gender. Lower School dormitories feature a special layout, which provides each student with an individual bedroom, separated from his or her cube-mate's bedroom by a study. Cubes have only partial walls and open onto a common area, providing students with privacy while fostering close relationships with other members of the form.
AP Course
Total AP Exams in 5 years: 2,116
Total AP Exams with scores of 3, 4, or 5: 1,944 (92 percent)
Total AP exams with scores of 4 or 5: 1,454 (69 percent)
2012/13 US High School Boarding Fees# (USD$) Per Year
| | | | | | |
| --- | --- | --- | --- | --- | --- |
| 7th Grade (12/13 Years Old) | 8th Grade (13/14 Years Old) | 9th Grade Freshman Year (14/15 Years Old) | 10th Grade Sophomore Year (15-16 Years Old) | 11th Grade Junior Year (16-17 Years Old) | 12th Grade Senior Year (17-18 Years Old) |
| 53,870 | 53,870 | 53,870 | 53,870 | 53,870 | 53,870 |
Remark: #Inclusive of tuition fees but exclusive of miscellaneous fees, such as uniform, extracurricular activities