Lakefield College School
School Name:
Lakefield College School
Location:
4391 County Road 29, Lakefield, Ontario, K0L 2H0, Canada
Founded Year:
1879
Religion:
Anglican Church of Canada
Motto:
Mens Sana In Corpore Sano
Type:
Co-ed
Boarding Age:
13-18
Year Group:
Grade 8-12
No. of Students:
366
No. of Boarders:
240
Average Class:
16 students

Entry Requirement:




SSAT results, extracurricular interests, and interview

Extracurricular Activities:




Lakefield College School offers Co-Curricular activities such as a wide range of sports, community service opportunities, choir, band, theatre and different student groups.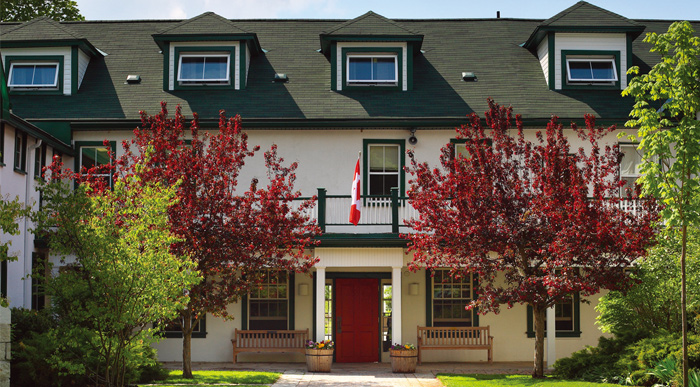 The School
Lakefield College School has the volunteer support of Prince Andrew, Duke of York, a member of the British Royal Family and the Canadian Royal Family, who graduated from Lakefield in 1978. He serves as patron of the Friends of Lakefield College School.
LCS has a 155-acre (0.63 km2) wooded, waterfront, campus on the east shore of Lake Katchewanooka in rural Ontario. It is just north of the village of Lakefield, an hour and a half north-east of Toronto by road.
Lakefield College School offers a wide range of Arts, Languages, Math, Science, Technology and Social Science courses to its students. Students must engage in three sports a year, one a term, with the exception of graduating students, who can choose to take one "term off".
Lakefield's faculty engage students in academic activities which will enable them to develop disciplined habits of study, critical thinking skills, and a talent for co-operative problem-solving.
Admission
Please contact the Admission Office directly by email, by post or visit the School website for latest information.
Boarding Houses
The boarding students are divided into 11 houses, each with an adult "Head of House" who acts as a parent and an "Assistant Head of House" who acts like an older brother or sister while the student is away from home.
There are five boys' boarding houses and six girls' boarding houses which contain student dormitories, washrooms, common areas, a Head of House residence, and an Assistant Head of House apartment.
Each has an average of 23 students and two adults.
2012/13 Canadian High School Boarding Fees# (CAD$) Per Year
| | | | | | |
| --- | --- | --- | --- | --- | --- |
| 7th Grade (12/13 Years Old) | 8th Grade (13/14 Years Old) | 9th Grade (14/15 Years Old) | 10th Grade (15-16 Years Old) | 11th Grade (16-17 Years Old) | 12th Grade (17-18 Years Old) |
|  - |  54,630 |  54,630 |  54,630 |  54,630 |  54,630 |
Remark: #Inclusive of tuition and residence fee but exclusive of miscellaneous fees, such as uniform, extracurricular activities