Havergal College
School Name:
Havergal College
Location:
1451 Avenue Road, Toronto, ON M5N 2H9, Canada
Founded Year:
1894
Religion:
Anglican
Type:
Girls
Boarding Age:
14-18
Year Group:
Kindergarten - Grade 12
No. of Students:
920
No. of Boarders:
237
Average Class:
20 students

School Facilities:


17 buildings
Average SAT:
1338/1600, Average IB Diploma score is 33

Entry Requirement:




SSAT results, extracurricular interests, and interview

Extracurricular Activities:




60 clubs and 15 athletics teams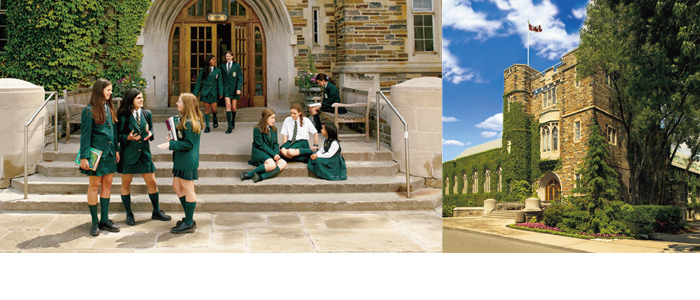 The School
All courses are college-preparatory and are at the advanced level. A credit is granted with the successful completion of a course for which a minimum of 110 hours has been scheduled. Many students elect to write Advanced Placement exams. Upon graduation, students receive the Ontario Secondary School Diploma.
Admission
Please contact the Admission Office directly by email, by post or visit the School website for latest information.
Boarding Houses
The Boarding School is a residence for approximately 50 Havergal students (Grades 9 to 12) representing countries all over the globe.
Fully integrated in the life of the school and with Day Students, Boarding students participate in life skills programming, recreational programming and the Duke of Edinburgh's Award Program in addition to the curricular and co-curricular programs offered at Havergal.
The Boarding School is also the home to many exchange students who visit for several weeks each term from partner schools located in six countries worldwide.
AP Course
Havergal offers Advanced Placement courses in biology, calculus, statistics, French and Spanish.
2012/13 Canadian High School Boarding Fees# (CAD$) Per Year
| | | | | | |
| --- | --- | --- | --- | --- | --- |
| 7th Grade (12/13 Years Old) | 8th Grade (13/14 Years Old) | 9th Grade (14/15 Years Old) | 10th Grade (15-16 Years Old) | 11th Grade (16-17 Years Old) | 12th Grade (17-18 Years Old) |
| - | - | 49,500 | 49,500 | 49,500 | 49,500 |
Remark: #Inclusive of tuition and residence fee but exclusive of miscellaneous fees, such as uniform, extracurricular activities