United Christian College (Kowloon East)
School Name:
United Christian College (Kowloon East)
Location:
2 Lee On Lane, Kwun Tong, Kowloon, HongKong
Founded Year:
2003
Religion:
Christian
Motto:
Understanding Truth / Pursuing God / Developing Diligence / Cultivating Virtue
Type:
Co-ed
Boarding Age:
-
Year Group:
-

School Facilities:


-

Entry Requirement:




-

Extracurricular Activities:




-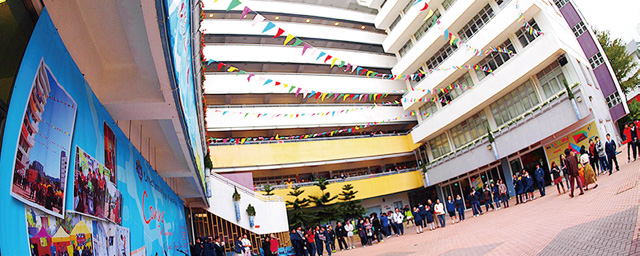 The School
United Christian College (Kowloon East) founded in 2003. We are an EMI and co-ed school with an enrolment of about 900 S.1 to S.6 students. Our teacher- to- student ratio is 1:12. The teachers are dedicated and qualifi ed, 50% of them are with master or doctorate degrees.
 The school provides a different sky of learning with a broad and challenging curriculum. Our priority is to offer an all-rounded and quality education, emphasising academic excellence, broadening international perspective and fostering positive and lasting godly values in the lives of our students. United Christian Community Church, which is part of the School, further provides pastoral support to the school community. Together with committed teachers who are dedicated to Christian school education, we fi nd pride in making United Christian College (Kowloon East) a unique quality Christian secondary school in Hong Kong.
Admission
 The school does not participate in the Discretionary Places and Central Allocation system. Selection criteria mainly focus on the EDB Ranking, School Academic results, Conduct and Performance in Interview (Individual and Group). The following areas are possible references for selection.
1. Participations and Performance in ECA/CCA
2. Parents' support to School Mission and Christian Education
3. Present Sibling or Alumni Sibling
4. Parent is on staff or Alumni
5. Parents' support to child
Boarding
The school has provided semi-boarding experience for all S.1 students since September, 2009. Boarders leave the dorm on Friday after school and return on Sunday or the last day of holiday.
 To align with the School's holistic Christian education, disciplined boarding life and multifunctional dorm activities aim to enhance students' self-management skills, and to enrich their social and communication, problem-solving and collaboration skills through peer interaction. Such training is extended to campus and family lives, so the students can grow to become wellrounded individuals.
 If there are vacancies, S.2 – S.6 students could also apply to live in the dormitory.
 
S1
S2
S3
S4
S5
S6
Boarding Fees
Please contact the admission offi ce for more detailed information.
Tuition
25,000
22,000
22,000
22,000
21,000
20,000