St. Paul's Co-educational College
School Name:
St. Paul's Co-educational College
Location:
33 MacDonnell Road, Hong Kong
Founded Year:
1915
Religion:
Christian
Motto:
Faith, Hope and Love
Type:
Co-ed
Boarding Age:
-
Year Group:
-
No. of Boarders:
81

School Facilities:




Chapel
 Library
Lecture Theatre
School Hall
Cafeteria
Residence Hall
Laboratories
Special Rooms
Basketball Court

Entry Requirement:




-

Extracurricular Activities:




Leadership Programmes
Community Service
Academic Clubs and Societies
 Music
 Sports
Interest and Service Groups
 Uniform Groups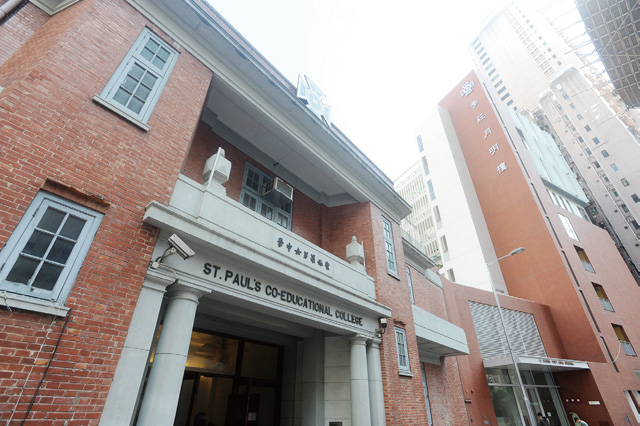 The School
St. Paul's Co-educational College (SPCC) was founded by the Sheng Kung Hui (Anglican Church) in 1915 and is located in the city centre of Hong Kong. It is respected for both academic and musical excellence. The school is also recognized for the valuable contributions its graduates, being leaders in their respective professions, have made to the Hong Kong community. Enrolment stands at 1227 in 7th to 12th grades. SPCC is a Direct Subsidy Scheme (DSS) school and has adopted a 'throughtrain' mode with its primary school since 2002. Becoming a DSS school has enabled SPCC to further its reputation as a leading institution in Hong Kong with a high teacher-student ratio, multidisciplinary curricula on physical and intellectual development, and local and overseas educational programmes.
In the spirit of " Faith, Hope and Love ", to nurture our students as future leaders by instilling in them a culture of excellence, high moral values, an altruistic spirit, a passion for lifelong learning and a global perspective.
Admission
Overseas students and mainland students can apply for senior forms. F3 (Year 9) students can opt for entry to F4 local DSE curriculum or the IB Preparatory Year, while F4 (Year 10) students can apply for Year 1 of our IB Diploma Programme.Applicants should send an Application Letter together with school reports in the past two years to the college by email, fax or post.
Boarding Houses
Located atop the East Wing, the newly furnished Chong Yau Pak Wan Residence Hall commands great views over the city and provides a safe and cosy environment for a maximum of 81 boarders. The hall caters for boys and girls on different fl oors and fosters harmonious communal living that engages local and international students in a variety of intercultural learning opportunities. Overseas students will fi nd it a home away from home.
| | | | | | | |
| --- | --- | --- | --- | --- | --- | --- |
|   | S1 | S2 | S3 | S4 | S5 | S6 |
| Boarding Fees | 60,000 | 60,000 | 60,000 | 60,000 | 60,000 | 60,000 |
| Tuition | 52,000 | 52,000 | 52,000 | 52,000 | 52,000 | 52,000 |