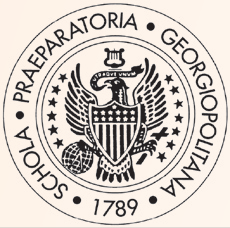 Georgetown Preparatory School
School Name:
Georgetown Preparatory School
Location:
10900 Rockville Pike North Bethesda, Maryland (Montgomery County) 20852, USA
Founded Year:
1789
Type:
Boys
Boarding Age:
14-18
Year Group:
Grade 9 - Grade 12
No. of Students:
490

School Facilities:


In January 2007, Georgetown Prep opened the Hanley Center for Athletic Excellence, a state-of-the-art athletic center that features a 200 meter indoor track, 11-lane swimming pool with diving area, competition basketball arena, wrestling room, 6000s.f, weight training/ cardiovascular room, and a team lm room. Joe Hills, son of golf course architect, Arthur Hills, redesigned and severely shrank the school's golf course.
Average SAT:
660 verbal, 690 math., 690 writing

Extracurricular Activities:




Football, soccer, cross country, swimming, basketball, wrestling, hockey, indoor track, baseball, tennis, golf, lacrosse, track, rugby, fencing
Contact Details
Director of Admissions:


Mr Brian Gilbert
Address:


10900 Rockville Pike, North Bethesda, MD 20852, USA
Telephone:


+1 (301) 493 5000
Email:
bgilbert@gprep.org
Web:
http://www.gprep.org

The School
Georgetown Preparatory School, one of the oldest boys' schools in America is the only Jesuit boarding school in the country. The average graduate takes 5 A.P. courses with 80% of scores qualifying for college credit. 82% of the boys play interscholastic sports. The school's interscholastic athletic, forensics and ne arts programs enjoy national recognition.
In 2010, the school completed its signifi cant reconstruction program to modernize its 90-acre (360,000 m2) campus.
As the only Jesuit boarding school in the US, Georgetown take the commitment to cura personalis—care for the entire person—very seriously. The staff includes 9 full-time members, including several teachers, a college counselor and an athletic trainer.
Admission
Please contact the Admission Office directly by email, by post or visit the School website for latest information.
Boarding Houses
With just over 100 boarders and a total of 17 residential staff, the boarding program fosters a close-knit community where students receive supervision and guidance from a variety of different individuals and perspectives.
Boarding students come from nearly 20 different states and countries, including China, Japan, Korea, Thailand, Venezuela, Germany, Nigeria and Mexico.
AP Course
Prep offers 24 Advanced Placement courses, and students each take an average of four AP classes, with more than 80 percent receiving college credit. A range of electives introduces many students to new subject areas and allows others to pursue long-held passions.
2012/13 US High School Boarding Fees# (USD$) Per Year
| | | | | | |
| --- | --- | --- | --- | --- | --- |
| 7th Grade (12/13 Years Old) | 8th Grade (13/14 Years Old) | 9th Grade Freshman Year (14/15 Years Old) | 10th Grade Sophomore Year (15-16 Years Old) | 11th Grade Junior Year (16-17 Years Old) | 12th Grade Senior Year (17-18 Years Old) |
| - | - | 52,735 | 52,735 | 52,735 | 52,735 |
Remark: #Inclusive of tuition fees but exclusive of miscellaneous fees, such as uniform, extracurricular activities